Weekend Ketchup! (Cuz Everything's better With Condiments)
Jul 10
Ok, yes, I've been pretty much AWOL for the past…
…erm..  it's been a whole month.  I've been busy with a project that I was *sure* would be ready to go "any day now", so I kept putting off posting until it was ready.  Now? It's actually, really almost ready! Yay! Seriously ready! YAY!
Curious about what it is? The image over on the right will give you a hint. But meanwhile, a lot of stuff happened, stuff I didn't tell you about because I was busy being "almost ready".   So I'm taking the opportunity to Ketchup.  I'd love it if this wound up my version of Havi's Chickens (a weekly public check-in she and her readers do) but I'm flakier than Havi, so we'll have to wait and see if I repeat it.
Meanwhile, here's the ketchup from the last month or so! (Don't worry, it's not past the 'best by' date)
Realizations
The Time Warp: I'm really, really lousy at estimating how long individual tasks will take to complete. That means I'm extra lousy at estimating how long a project-of-many-tasks will take to complete.  And THAT means that my typical "put off other tasks/duties until I finish this because it'll be done tomorrow if I apply myself" approach really doesn't work and a lot of things go undone. I'm not sure, yet, how to change that approach. But I'll work on it.
I Miss Being A "Blogger": Somehow, I got it into my head that the thing to do was to focus on creating products, rather than blogging.  And, frankly? That sucks. Because I like blogging. So I'm redefining myself: I'm a blogger, dammit… Even if it's not as cool as being an artist/writer/entrepreneur, I am a blogger! (hear me roar. or something.)
I Treat Everything Like An Art Project: I approach everything I do with this odd sense of "arranging" it for the overall effect.  If I can't do that? I have no interest. I've had this realization before, but somehow, I haven't integrated it yet, and I keep forgetting – which probably contributes a lot to the Time Warp mentioned above.  Writing a sales page takes a LOT longer when you're treating it like a piece of performance art.  (Actually? Performance art would be quicker.)

The OMG-That-So-Sucked Department
I somehow completely missed a jury duty summons. A JURY DUTY SUMMONS! I missed it.  And got a lovely postcard in the mail calling me out for it and threatening me with incarceration if I don't get in touch with the court. OMG. Like, serious anxiety central.
Also, there's the whole feeling overwhelmed by life and wanting to crawl in a hole but it's too hot outside to dig one!  Did I mention many days of well over 100 degrees? We've had 'em, and at least another week of them is on the schedule.  Thank Gawd for working AC units!
Circus Dog snuck out and ran off to the park in said 100 degree heat, TWICE! Causing much panic & panting on our part, and much glee and racing on her part.  Who knew a Pomeranian loved to run that much? I see some trips to the dog park in the future.

The Department of Yay!
I am really, really pleased with my progress on the new project. Like awesomely pleased.
As scary as it was to have the Pom Pup racing around the park off leash (and racing across the streets, repeatedly, too!), it was fun to see her have such a blast doing it. She wasn't running away, she was just running for the sheer joy of it.  And her eyes were uber bright for days!
I made the world's most awesome green smoothie! Frozen banana, strawberries, blackberries and yogurt, non frozen almond milk & baby spinach. OMG. That was GOOD!  But next time, I won't freeze the yogurt in one big lump with the banana.
What I Want For Next Week:
Reasonable anxiety levels.
Re-establishing a treadmilling pattern.
Re-establishing a meditation habit.
At least two blog posts (other than this one!)
Launch, Baby! Launch!
Other Stuff You Should Know About:
You know Nicole Fende, right? Of Biz Finance Forum? She's not only a financial whiz, she's got a way of approaching the subject that helps non-financial whiz people (like most of us) more comfortable dealing with the money stuff.
Tomorrow night, at she's doing a free webinar, Unlock Your Profits. I'm really looking forward to it, because she's a huge fan of Emmit, and has really worked at incorporating that same sense of reassuring, creative fun into her finance courses and consults.(and yes, that's an affiliate link, because she is also about to release some promising paid stuff, too)
Unlock Your Profits. Free.  Monday. July 11th at 8pm EST.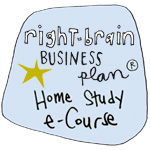 Speaking of Emmit! My wacky business plan's Godmother, Jennifer Lee, is launching a home study course for Right Brain Business Planning.  So if the book seems a little overwhelming on your own, and you need some accountability and support, but you need a more flexible (and less expensive!) option than the full ecourse?  This should be just about perfect.
I really cannot stress enough how much of a difference the RBBP process has made for me in shifting my online business gears. So I'll be jumping into the home study course, tidying up my own plans again, with Emmits help, of course! (and yes, this is an affiliate link, too. 'Cuz Emmit and & are in Jenn's book, and in the Video Summit, too – so it would just be silly not to partner, right?)

Right Brain Business Plan: Home Study Course. Because it rocks. And because I'll be there!
I've got no idea how to close this bottle of ketchup.
So, if you have anything you'd like to ketchup on sharing, feel free.  Only request is that this isn't a helping-or-playing-coach space, just a sharing ketchup space. You could share mustard too, if you're so inclined. Or Ranch.  Horseradish, if you're feeling spicy!
But do leave a comment, and let me know you're still out there!