It's A Right-Brained Interview, with Jennifer Lee!
Mar 07
Note! If you somehow missed my Show & Tell spotlight on the Right-Brainers in Business Summit* you can still check out Emmit's flashing circus lights for free until 9pm eastern, tomorrow night!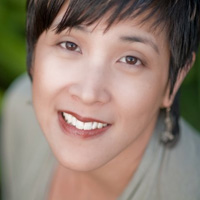 So, by now you've heard…
About Jennifer Lee's The Right-Brain Business Plan, right?   I've certainly rambled on about it enough lately,  so if you *don't* know, you probably stumbled in here from a search engine, looking for discount tickets to Cirque du Soleil or something. (You wont find those here, just for the record, but you're welcome to stick around for the popcorn and sage-advice for quirkipreneurs)
Anyway, Jenn (that's her lovely face up there) offered me the chance to interview her for the Circus.  I jumped at it, and this is the result.  Tada!
Tori: I've been talking with my audience, and while they're really clear on the "Right-Brain" part, some of them still aren't sure about what a business plan actually *is* — can you give a quickie explanation?
Jenn: At the most basic level, a business plan is a roadmap that helps articulate the vision of where you want to go and the details of what it's going to take to get there. It describes your business, your products and services, your perfect customers, how you stand out from the crowd, how you'll get the word out, how much moola you'll make and how, and your action plan.  Not having a business plan is like driving without directions to an unknown destination.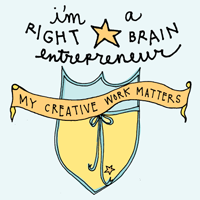 Tori: Your book is called "Right-Brain Business Plans" but your approach is really very whole-brained, encouraging the creative and logical parts of our minds to find ways to work together. Sometimes, the two hemispheres of my brain seem to behave like a 4 and 5 year old siblings – there's a lot of hair pulling and crying and tattling involved. Have you got any suggestions for resolving that conflict outside of the business planning process?
Jenn: Yes the two sides can quibble over lots of things besides business since they see the world so differently. One way to get around this is to remember that they both bring something valuable to the table. Neither is right or wrong. And there are times when one's gifts are more effective than the other's. Let them have a dialogue about what they want to contribute and when, and have them make agreements about how they can support each other. You can even sketch out a dialogue comic book style until they reach a shared understanding and then if things get out of hand you can have them revisit the written dialogue.
Tori: You're working with so many fascinating up-and-coming creative entrepreneurs through RBBP;  what's surprised you about the process and results?
Jenn: Gosh, what hasn't surprised me? This whole RBBP movement has certainly taken on a life of it's own (Emmit, case in point!) and that's pretty exciting. I love seeing where people's imaginations take them when they're creating their plans. Just the process of choosing the format can be super meaningful and inspiring to people. Who would've thought of a business plan in a paint bucket with a feather boa? Or the latest I heard on twitter was a compass made out of a hat box! And it's been awesome to hear how people have accomplished so many goals since making their first RBBP. I think having a creative plan gives people permission to approach their business with more freedom, creativity and authentic expression and that in turn has had positive effects on their business.
Tori: For some of us *cough, cough, sputter* there's a temptation to pour creative energy into creating the perfect, artful, gorgeous beautiful business plan, and sort of neglect working on the actual business. How can we stay out of that trap?
Jenn: Sure, it can be really tempting to just focus on making something beautiful and forget about doing the work. That's why I advocate using simple things like sticky notes, index cards, markers, and collage to make things creative and fun versus "artistic." This isn't about making an amazing art journal or masterpiece – it's about creating a visual touchstone that has meaning to you (and that could very well be a mind map written on scratch paper).
Another practice could be to work on your creative plan while listening to a 30-60 min. fun and inspiring playlist. Once the music is up, you can let yourself stop the creating process and then ask yourself what's an action you need to take now and do it.
The other thing to realize is that just like your vision and your business, your RBBP is going to grow and evolve, so don't get too attached to how it looks now. You can always add to it later.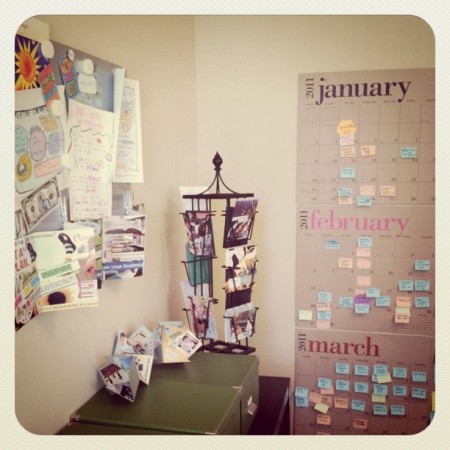 Tori: I loved this quote from your introduction: "You have permission to create wildly. To not be bound by what makes sense."  Would you explain how "not making sense" relates to something that seems as sensible as business planning?
Jenn: When we're in the first stages of the business planning and idea creation, we want anything to be possible. We don't want to limit our thinking because that will stifle innovation. So that's why we start first with the right-brain big picture vision. Then we bring the left-brain in a little later to make sure it's a feasible idea and that we can figure out the steps to make it happen.
When I think back to how the RBBP got started, I just gave myself permission to create wildly during an Art Every Day Month challenge. I didn't think about how this idea would make me money or if bringing together two seemingly opposite things "right-brain" + "business plan" even made sense. I just had fun. I went with the flow and then as the idea gained moment, I paid attention to what was resonating with people and then invited my left-brain to the party to help me come up with projects and products to grow the concept into what it is now.
Tori: Some people may not realize that "Emmit" (my own wacky, clown nosed business plan) has its roots in your e-Course,  which makes you Emmit's Godmother, or something! Any comments on the developing #Emmit movement?
Jenn: I love how Emmit is another example of the whole RBBP idea taking on a life of it's own. It's the creative process in action – different ideas come together to from something fresh and innovative (like a clown, nosed character business plan!). I love how you and Emmit are bringing humor and wackiness to business. And of course I find it so funny how my dog is named Emmett, too.
Tori: Speaking of Emmit, he has a few questions of his own. I've told him that it's inappropriate to flirt, since you're his godmother and a lot of newcomers will be reading this, so he's on extra good behavior.
Emmit! If your own business plan had a name, what would it be, and why?
Jenn: Hmmm, the first name that came to mind was "Martha" because Martha Stewart's big vision, impeccable style and world domination inspire me.
Emmit! Do you have a favorite flavor of popcorn?
Jenn: Caramel for when I want sweet. Cheese when I want salty. Not together though, cuz that's just gross.
Emmit! What's your favorite circus act? It's the clowns, right? Please say it's the clowns! (Editorial Note- Jenn, it's ok if it's not the clowns – Tori)
Jenn: (Thanks for the out, Tori!) I am fascinated by aerial acrobatics and would love to try that someday (even though I'm afraid of heights) – it's just so beautiful to watch!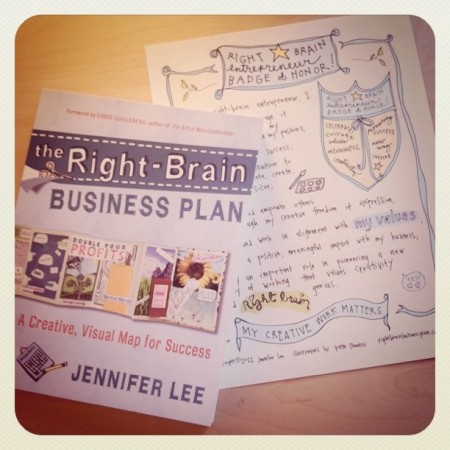 Tori: And finally, any parting words of serene wisdom for the Circus-goers?
Jenn: Remember that you don't need to know everything before you get started. By simply putting your hat in the ring and taking those first steps, you'll gain more confidence and knowledge. And you've got an inspiring ringmistress in Tori to keep you going!
Aww… thanks so much for that, Jennifer, and thanks for such wonderful answers! Oh, and for the book. And the summit.  And all of the inspiring awesome that RBBP is inspiring in me, and in the world!
I know a lot of you have become fans of Jennifer's over the past week and a half, so here's your chance to show her the lurve! Drop a line in the comments and tell her how awesome she is — maybe we can keep her blushing until tomorrow's Video Summit installment!

Jennifer Lee, the founder of Artizen Coaching and author of The Right-Brain Business Plan, spent a decade climbing the corporate ladder before pursuing her creative dreams. Through her popular workshops, coaching practice, and writing, she empowers others to follow their passions. She lives in the San Francisco Bay Area.
*Oh, and yes, I'm an affiliate for the summit. I'd be foolish not to be, don't ya think? So here's the link againRight-Brainers in Business Summit You can attend live for free, and watch the recordings for 24 hours. And if you decide to upgrade to one of the packages, the elephants get extra peanuts for dinner!